One of the realities of today's hyper-connected "Internet Of Things" is that new, exciting technologies make their way into every aspect of people's lives, and touchscreen tablet computing is no exception. The LeapFrog LeapPad Ultra XDi Kids Learning Tablet is a prime example of the way tablet computing has been developed and adjusted to meet the needs of users of all ages, being a fully functional tablet computer created for young children.
While "kid-safe tablet" might seem like an oxymoron, it is one of the best ways to describe the LeapPad tablet. Its durable plastic construction and extra tough screen will make you wonder why Samsung and Apple make their adult devices so incredibly fragile by comparison. The LeapPad tablet is kid-safe not only as far as its construction is concerned, but also regarding its web capabilities, making it a great learning and entertainment tool for kids from 3 to 9 years of age.
Main Features of the LeapFrog LeapPad Ultra XDi Kids Learning Tablet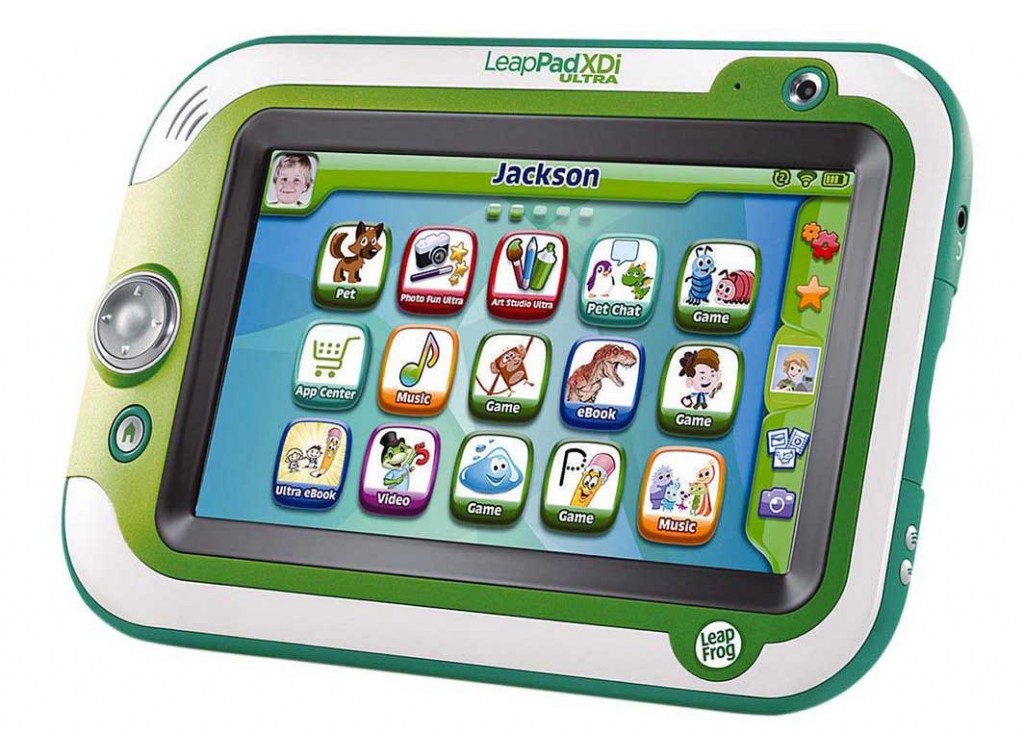 The LeapFrog LeapPad Ultra XDi kids learning tablet is a child-proof tablet computer with a 7-inch screen and a tough plastic outer shell that is incredibly resistant for a retail electronics device. It comes with eleven children's educational applications and the ability to download more from LeapFrog's specialty library. There are over a thousand applications available from this library, ensuring that your child is educated and entertained for years.
In terms of its specifications as a tablet computer, the LeapPad tablet is not competing with the leading consumer tablets on the electronic market, but it was not designed to. It has 8 GB of on-board flash memory that allows it to store up to 140 game applications at a time. With parental guidance, this turns the LeapPad XDi Ultra into a veritable arcade of educational and creative games suitable and entertaining for the entire family.
The LeapFrog Ultra tablet also comes with dual front- and rear-side cameras, allowing your child to take both photographs and selfies, edit the images through apps like Photo Fun Ultra, and then send them to you or to other friends through Wi-Fi. All of these features and more make the LeapPad XDi Ultra an excellent introduction to retail electronics for children.
Other Features And Benefits Of The LeapFrog LeapPad Ultra XDi
Powerful parental controls allow for precise adjustments to be made to the type of web content that your child can be exposed to.

Built-in MP3 player allows music to be uploaded, downloaded and listened to, either through the LeapFrog's speakers or through headphones, taking advantage of dedicated jack.

Built-in visual apps like Art Studio Ultra allow your child to express their creativity in a safe and constructive fashion while learning about the world around them.

Leap Search offers a web search function that offers parental control over the content that your child is able to view. The search is powered by Zui, one of the leading parental control search engines on the market.

Thousands of educator-approved apps are available through LeapFrog's library, including e-books, videos, music, games, activities and much more.

1024×600 resolution offers near HD-quality to videos and pictures displayed using the LeapFrog LeapPad Ultra learning tablet.

The rechargeable lithium-ion battery allows for 6 hours of use before requiring additional charging.

The LeapFrog learning tablet responds to touch, as well as to the included stylus. The stylus is conveniently placed on the bottom of the device, eliminating the common left-handed vs. right-handed problem.

The LeapFrog tablet comes with a microphone and volume control that can be used with many of the LeapFrog applications that work with sound or make calls.
Aspects To Keep In Mind About This LeapFrog Ultra Tablet
The LeapFrog LeapPad Ultra XDi is a great tool for children's education and a very reliable creative toy for young ones to play with. The only issues this LeapFrog learning tablet runs into while in normal use are the battery life and loading times of certain apps.
For a learning tablet for kids like this one, a battery life of 6 hours is about the correct amount to be expected, given modern technology's current limits. Those limits, however, are the last thing on your child's mind when he or she cannot play their favorite game because they have run out of power. It is very easy for children to become obsessive over their games, and parents are warned to observe their reactions so as to prevent unwanted tantrums.
Next to this, the loading time of the applications can be a bit longer than many people would expect. A waiting time of ten seconds is not uncommon and, while this is significantly lower than previous LeapPad tablets, it can still have an effect on impatient children. Faster loading times are hard to come by, however, unless you are looking at adult tablets and mobile devices.
What to Expect From The LeapFrog LeapPad Ultra Tablet
The LeapFrog tablet seems like a sturdy, well-constructed, and reliable device that is ideal for the young children it is designed for. The applications are generally of high quality and cover most of the things that should be on a children's tablet: lots of education apps, creative apps and story apps.
The story apps are of particular interest, since they offer faithful renditions of the fairy tales all children are enchanted by. Seeing them come to life on a tablet screen is something you would have never imagined a decade or two again, and is now only a click away for your child or children. All of the most famous Grimm Brothers fairytales are there, and more.
Children love the games and apps available and quickly become enamored with the LeapFrog LeapPad. It does a great job at providing a seemingly endless source of information, education and entertainment in a thoroughly kid-safe environment that parents can trust.
[thrive_link color='orange' link='https://www.amazon.co.uk/LeapFrog-LeapPad-Ultra-Learning-Tablet/dp/B00CS1WD9A?tag=tinsmi-21′ target='_self' size='medium' align='aligncenter']Buy From Amazon[/thrive_link]
Final Verdict
This LeapFrog LeapPad Ultra XDi Kids Learning Tablet is an educational toy that is easy to recommend for any parent who begins to tremble when their child asks to play on their smart phone or tablet. Kids love technology, and giving your child this tablet helps them accommodate themselves to technology, while keeping your precious electronics out of their tiny hands and out of harm's way as well.