Being active is an important part of childhood, for all children swimming is an ideal recreational activity. But when considering the environments in which your child may be swimming – chlorinated swimming pools as well as lakes and oceans – you will want to take measures to protect their eyes from salt, bacteria, pollutants and chemicals. A good pair of swimming goggles for kids will not only help to prevent itchy and irritated eyes, they will also provide greater visibility and clarity enabling them to see objects as they race around underwater.
Quick Comparison: Best swimming goggles for kids in UK
Choosing Swimming Googles for kids
Finding a pair of kids swimming goggles that are protective, attractive, and a comfortable fit can be a real chore. There is a huge variety of shapes, sizes, styles, and colors available on the market which can make the task of choosing the best pair even more challenging. When looking for the right pair of swimming goggles for kids, here are some key factors to consider:
Purpose
Not all kids swimming goggles kids are designed for the same purpose. Specific shapes, materials, and features are used to create goggles that are best suited to particular environments and swimming styles. Finding a pair that are suitable for their intended use is the best way to ensure that they last longer and perform well. Here are a couple of the most common goggle types:
Competition Goggles


If your child develops a deeper interest in swimming, then he or she might become involved in swimming competitions. Goggles built for competition are created to be smaller and more tightly fitting than standard pairs. They fit closely around the eye sockets so that they create less drag in the water. While this design makes them ideal for short-term use during competition, they may become uncomfortable if worn for a long period of time.
Recreational & Training Goggles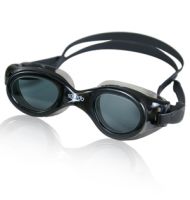 Recreational goggles are worn for hours at a time so comfort is key. They tend to be bulkier than competition goggles, and they fit more spaciously around the eyes for comfy long-term use.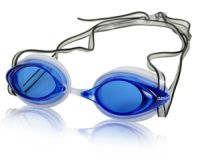 Training goggles are designed with a similar approach to recreational goggles, because competitive performance is not an issue.
Swim Mask
They are much bigger than the standard swimming googles as they designed for snorkeling and scuba diving. These googles are soft and more comfortable to wear.
Lens Type
There is a wide range of lens coatings that can be applied to goggles to create different effects. UV protected lenses are crucial for goggles that will be worn outdoors, and mirrored or tinted pairs are useful for reducing glare. If your child requires glasses, then prescription swimming goggles can be bought from many leading brands, including TYR and Speedo Swimming Goggles.
Clear lenses are preferable for winter swimming or during overcast days when light levels are low. They are also good for night time swimming in open water.
Amber, yellow and blue lenses are sometimes preferred for improved visibility in pools.
Blue lenses are often chosen to maximise open water underwater visibility.
Dark lenses are good to reduce glare in open water swimming. These lenses don't block the sun as well as metallic lenses, nor do they make the water look lighter.
Mirror lenses are great for situations with high light levels. These lenses reflect the light away from the swimmers eyes. If your child is taking part in competition then mirror lenses goggle would be good choice.
Fitting
Remember that a child's first instinct would be to select a pair of goggles based on their appearance, which is not the best criterion. The most important consideration is that they fit properly. As a parent, you should be aware of some basic information about selecting a great fitting pair.
Well-fitting goggles should be snug but not too tight. One quick and easy technique to find out whether a pair of goggles fits correctly is to do the "press on fit" test. Press the goggles firmly but gently to your child's face without the strap in place. The goggles should provide enough suction to stay secured for a couple of seconds, so if they fall off immediately, they are probably a poor fit. The next test is to try them on with the straps. If, when taken off, red marks are visible around the eye sockets or face, then they are too tight.
One important thing to watch out for when fitting a pair of swimming goggles on your child is the strap and nose piece. They may be easy to adjust for an adult, but are they for a child? Have your child attempt to adjust them on their own. If they can can figure out how to do it by themselves, or with only minimal guidance from you, then there is no reason for concern. But if they have to tug this and that, make complex loops or go through several steps just to make an adjustment, then your junior swimming prodigy is going to become confused and frustrated. The new goggles you paid for will eventually stop being fun to wear and become such a chore, one day they will become "lost."
Also, if your son or daughter has a large head, then avoid finding something suitable among the kid's versions. Save yourself some time and frustration by going to directly to the smaller sizes of adult versions of the goggles.
Anti-fog lenses are convenient, but the coating often rubs off, especially considering the amount of rough handling… and roughhousing your child will probably be doing in the water. You may want to think twice before paying the extra for this type of kids swimming goggles. If fogging becomes a nuisance, you can always buy inexpensive anti-fog drops later. Or, you can simply instruct your child to rub a little bit of saliva onto the lens. (They may love doing that!). You can substitute toothpaste for saliva if you are worried there may be a hygiene concern.
One final word…
While most versions of kid's goggles by the trusted brands are quite inexpensive, there are some pricey versions. Sure they  may look great and have all sorts of "wonderful" features, most children loose or break swimming goggles at least once. Your child is probably no different. Turn your attention to the less expensive versions and you will thank yourself later.
Swimming goggles for kids can be bought to suit almost any budget, and even highly advanced competition pairs are usually very affordable. Finding the best swimming goggles for your child is often a case of trial and error, so if you find the perfect pair, it is worthwhile to stock up on a couple of spares.